The Rhythm of the Day
We are open 8:45 am to 2:45 pm, Monday through Friday. The rhythm of the day is as follows:
8:45 Inside play:
This includes baking, coloring, painting, seasonal crafts, activities, and preparing snack.
9:45 Clean up
10:00 Circle:
Seasonal songs, poems, finger plays and movement games are incorporated.
10:15 Snack:
After eating we use the bathroom, wash our snack napkins and hang them out to dry.
10:45 Outside play:
We sweep the porch, water plants, feed the
birds, take nature walks, play ball and other games.
11:45 Story
12:00 Lunch
12:30 Clean up:
Pack up lunch and prepare for nap by going to the bathroom and setting up our nap bedding.
12:45 Nap
2:30 Arise, fold bedding, use the bathroom, and get ready to be picked up.
2:45 Parents pick up their children for home.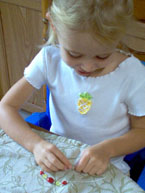 Each day, we combine indoor activities with outdoor games, weather permitting.
Please see our Policies and FAQs pages for more information.